Gimme Shelter will end its fundraising season with a Restaurant Night at Aunt Chilada's Mexican Restaurant this Thursday, from 5 – 9 PM. We are happy to announce that fan-favorite, Blue Trail, will be performing from 6 – 8:00 upstairs in the newly renovated Cantina (no cover). There are 3 ways to participate in this Thursday's promotion:
Make a reservation for the main-level lounge or restaurant. (Restaurant is open 11:30-9:00 daily.)
Dine at a table in the upstairs Cantina to see Blue Trail. (The upstairs Cantina opens at 5:00 and is first come, first served.)
Order take-out.
and Aunt Chilada's will donate 20% of everyone's pre-taxed total, between 5 pm-close (9 pm), on April 28th, to Hamden's Animal Shelter Gift Fund.
Introducing Animal Control Officer Monica Vece. Our newest Animal Control Officer, ACO Vece, will be at our Registration Table on Aunt Chilada's front porch this Thursday. So whether you are coming for Happy Hour, to dine, or to pick up a take-out order, please take a moment to introduce yourself to ACO Vece and wish her well on her new venture as our Hamden Animal Control Officer.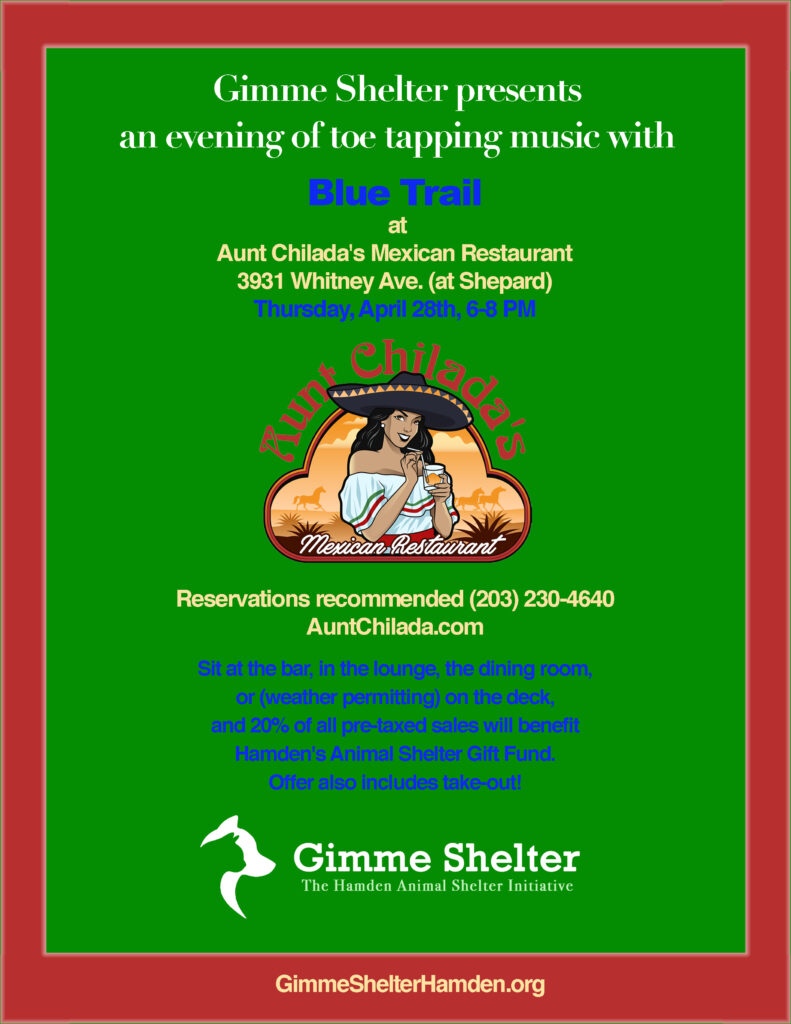 Aunt Chilada's is now Chef-owned so please consider coming out this Thursday to taste the difference.