Results
Thank you to Eamonn Ryan and the Playwright staff for hosting our September 1st event. Their facility was spacious enough for us not to be crowded yet our 20% kickback for the evening was $1,046. That check was delivered to HPD on 9/12 for deposit into the Animal Shelter Gift Fund. A big thanks to Ron Dievert, Jim Sheridan & Matt Schnitzler; better known as The Barn Rats, for donating their time & talent. They were well-received and I suspect that they will be back. Also thanks to the people who were able to participate. Whether you came in for dinner or just stopped in for a beer, you helped push this donation over $1,000!

At intermission, Mayor Lauren Garrett (pictured) gave an update about where the town stands on establishing a shared animal shelter with New Haven. She said New Haven and Hamden are working on a memorandum of understanding about the facility, as well as conceptual design plans and a budget. Once the town has an estimate of prospective costs, Garrett said, it can start seeking grants. Currently, the state and federal governments are prioritizing multi-town projects in awarding funds, she said, another benefit of a shared shelter.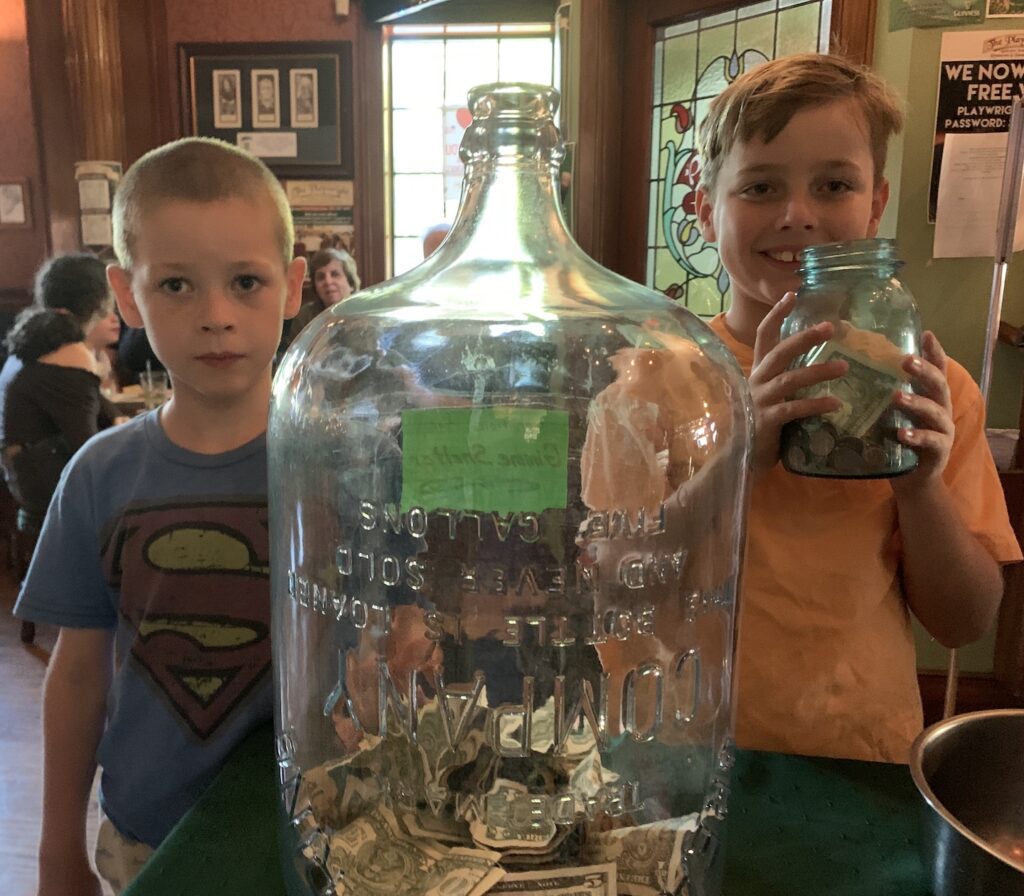 Lastly, we would be remiss if we did not mention these Hamden youths. Brothers Rhys & Ronan (pictured) sold lemonade with their Elihu Street friends to raise money for a Hamden Animal Shelter. Well done everyone!
(ORIGINAL POST BELOW)
Gimme Shelter will kick off its Fall 2022 Fundraising Season at The Playwright Irish Pub & Restaurant, located at 1232 Whitney Avenue (at Putnam), on Thursday, September 1st, from 5 pm to close.
WHAT TO EXPECT…
The Playwright: This locally owned & operated business serves traditional American cuisine plus fine Irish fares such as Corned Beef Dinners & Reubens, Beer Battered Fish & Chips, Bangers & Mash, Vegetable Irish Curry, and homemade Shepherd's Pie & Chicken Pot Pie. The Playwright offers all your legal beverages and features 20 beers on tap.
Participants are welcome to sit at the bar, in the pub, in the restaurant, outback on the covered patio, and (weather permitting), on the front deck. So regardless of where you feel most comfortable, 20% of your pre-taxed bill will be donated to Hamden's Animal Shelter Gift Fund. Offer includes all beverages, food items, and take-out. There is additional parking behind the Board of Ed building at 60 Putnam Ave.
RESERVATIONS RECOMMENDED (203) 287-2401
The Barn Rats: Hamden native, Ron Divert, and his newest musical project, The Barn Rats, will be making their Hamden debut between 6 – 9:00. These middle-school educators play an entertaining mix of music including covers from Van Morrison, The Rolling Stones, Stealers Wheel, Wilco & Neil Young.
TOWN OFFICIALS WILL BE DELIVERING A SHELTER UPDATE DURING INTERMISSION.
Gimme Shelter: Our philosophy is simple. The reason this project has been stalled since 2005 is that animals don't vote. By letting The Playwright make a donation to Hamden's Animal Shelter Gift Fund on our behalf, we are collectively showing tangible support from the electorate.
BY SHARING OUR FLIER AND ATTENDING THIS EVENT, YOU INCREASE THE DONATION POTENTIAL.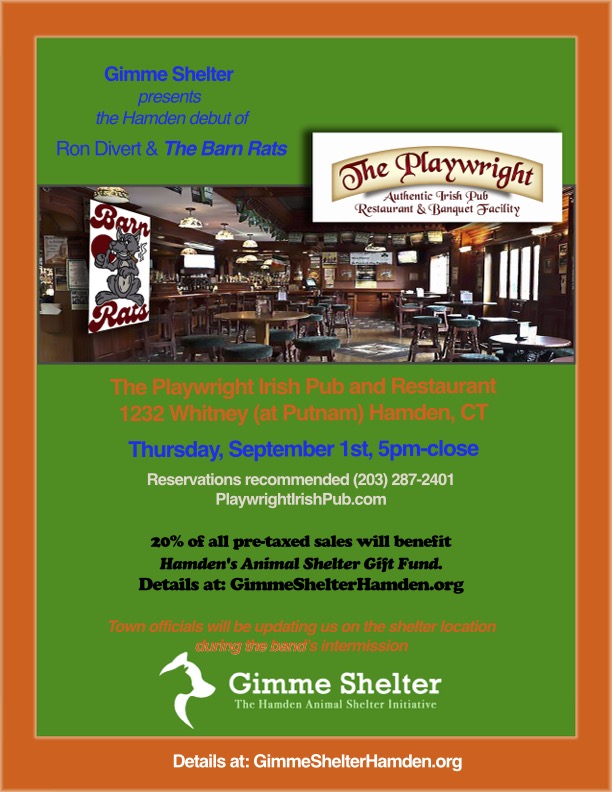 Would you let these people serve you?