Whitneyville Community donates $2,436 to Hamden's Animal Shelter Gift Fund during October.
1) $350. was donated by the residents of Atria Senior Living at Larson Place.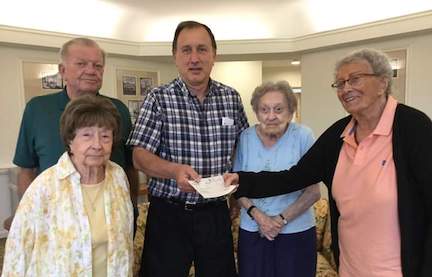 2) The Whitneyville Wine Walk on October 5th was a sellout.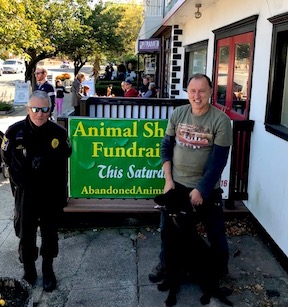 A special thanks to Linda and her staff at Books & Co. for coordinating the Whitneyville Fall Stroll. A free event that went on simultaneously.
3) $500. was donated by former Whitneyville resident, Jimmy Kerrigan (HHS Class of '76) of Manor St. When Jim's home and town of Paradise, CA burned to the ground during the devastating Camp Fire in northern CA, core members of Gimme Shelter had a fundraiser for him (and those in his orbit) on February 2nd. Insurance claims have been processed and Jim is doing okay in nearby Chico, CA. We were humbled when someone who has been through so much overwhelming circumstances, decided to pay it forward with a donation to Hamden's Animal Shelter Gift Fund.
Please understand that not every donation to the Animal Shelter Gift Fund comes through Gimme Shelter. A complete list of donations are included on each Hamden Police Commissioners' meeting agenda, which may be found online.
In the spirit of Jim Kerrigan, it is our hope that you remember these community minded people, local businesses and organizations during the upcoming holiday season and throughout the year. Simply put – they did not have to do this. These merchants have banquet rooms, offer off-site catering, legal beverages, locally grown/homemade foods, unique gifts and gift cards. Gimme Shelter is just the catalyst here so don't thank us – thank them!
Online Petition Reaches Goal
Gimme Shelter's petition for Hamden's 2019 Mayoral candidates to name a site as the future home of a Hamden Animal Shelter surpassed its goal of 2,500 names! No corporation is going to award Hamden money to idly sit in the Animal Shelter Gift Fund. By naming a site, complete with plans and a price tag, Gimme Shelter plans to start grant writing to solicit funds from outside the Hamden tax base. You may view the petition here.
October Recap
Hamden Animal Control Officers (Chris & Mitch) have done an extemporary job at placing pets before the winter sets in. They have found forever homes for 5 pets formerly in their possession during October alone! Hamden currently has 3 dogs and 3 cats that it is renting cages for at various locations.
Per pet costs have increased from $10/day to $30/day during the current administrations term, when North Haven ended what was supposed to be a "6-month agreement" back in 2005. Taxpayers are now paying for costlier options that include $30/per pet/per day rentals, at area animal hospitals.