NEW SHELTER PLANS
Hamden announced on March 8th, that it will be forming a regional shelter with New Haven at its current Fournier Street location. Chief Sullivan toured several area shelters and the operating costs for a Hamden-only shelter were just not feasible.
The proposed regional shelter will be 3 blocks from Hamden.
Hamden taxpayers will no longer be paying an average of $100 rental fees per day.
Animals in Hamden's care will have increased visibility which leads to shorter shelter stays.
Hamden ACOs will no longer be driving around town with every piece of their equipment in the Animal Control van.
Hamden ACOs will not have to go to headquarters to access the LEAS system every time they need to write up an incident report.
Whether a challenging diagnosis is received or a single pet parent dies, Hamden residents will now have a safe & legal option to re-home a pet.
We understand like everything else these days, passions run high on this issue. Attorney Gruen will be representing Hamden's interests in any inter-town agreement. Once that and the plans are complete, there will be a Public Hearing and then a public forum when this gets taken up in the Legislative Council. Residents will get a chance to express their opinions once we know exactly what is being proposed. 
Currently, town officials are determining what Hamden's needs are. (Back in 2017 former Chief Wydra determined that 15 cages were adequate.) The next step will be for Mayor Garrett to direct Hamden's Purchasing Agent to send out an RFP (Request For Proposal) for plans, a price tag, and a contractor. If you would like to support Hamden's Animal Shelter Gift Fund during this period, there are 3 opportunities coming up in April…
EASTER GIFT BASKETS
Moon Rocks Gourmet Cookies is donating 15% of all gift baskets to the Animal Shelter Gift Fund when you type in the code HAMDEN at checkout. Please allow 3-5 days for CT orders, longer for out-of-state deliveries. You may view their wide variety of gift baskets HERE.
THURSDAY, APRIL 21st
There will be a 'musical bingo' fundraiser, called MixTape Match, at The Playwright Irish Pub & Restaurant. As our host plays songs, you mark your scorecard just like traditional Bingo. No musical knowledge is necessary. Categories that evening will be Motown/R&B, Female Artists, and The 80's, with prizes awarded for each round. Please join us for some early-evening entertainment while supporting Hamden's Animal Shelter Gift Fund.
Thursday, April 28th
There will be a Restaurant Night at Aunt Chilada's Mexican Restaurant. 20% of everyone's pre-taxed bill will be donated to Hamden's Animal Shelter Gift Fund. Offer includes the bar/lounge, dining room, deck (weather permitting), and take-out! Entertainment will be provided by the Friends of Brooksvale's favorite musical group, Blue Trail, from 6 – 8 pm.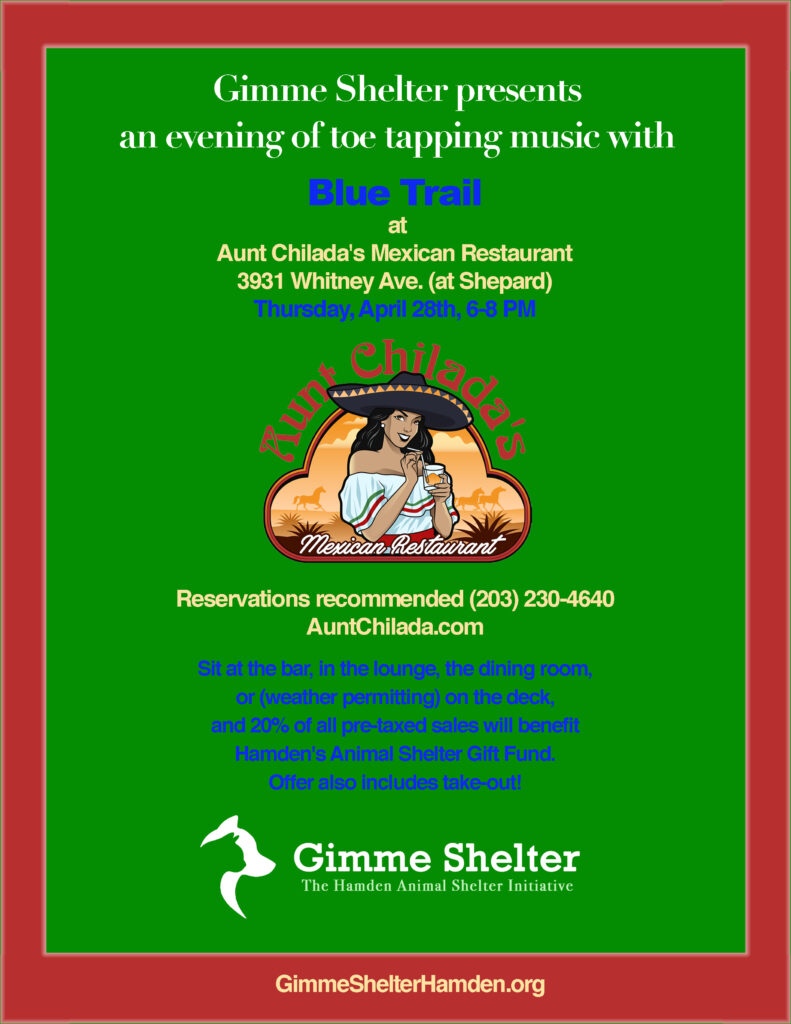 Gimme Shelter Hamden gets regular requests from people who are looking to volunteer. Until a shelter is built, we suggest you contact Friends of Brooksvale for volunteer opportunities. You may email them at: info@friendsofbrooksvale.org. (We will highlight local animal-friendly organizations each month.)
"May life treat you the way you treat animals."