We took in $2,520. Expenses (food from Le Petit Gourmet and wine from Wine 101, promotional materials, etc….) were $1,157. Our profit was $1362.
A big THANK YOU to Julian & Kathryn who opened up their Blake Road home for this event.
Susan Gooley from Le Petit Gourmet delivered exquisite food pairings to the 4 vendors coordinated by Wine 101.
Dian, Jody & Cheryl volunteered to work this event while Lisa, Arlene, Mary & Jerry distributed upcoming event fliers at the North Haven Fairgrounds during Operation Animal Freedom.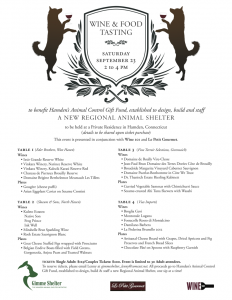 Please follow and like us: